In this article, I will be discussing 4 amazing sustainable activewear brands.
Staying active is so important for our physical, and even mental health. However, due to the current covid-19 restrictions here in the Netherlands, all our gyms are closed. It is still unsure when they'll open, but I am hoping it is soon because I am missing all the squats, and lunges.
Nevertheless, I am not so sure how motivated everyone will be once the gyms actually open since we are so used to sitting at home. We all need a little motivation, and what is more motivating than new a new set of activewear?

In 2013 Karin Jade founded the sports – and – swimwear brand WOLVEN. Alongside her partner Will Ryan, she created a brand that empowered different shapes, sizes, cultures, and identities while being as sustainable as possible.
WOLVEN uses OEKO- tex certified recycled P.E.T fabrics in their activewear to counteract the increasing plastic pollution. Next to this, using recycled P.E.T instead of virgin P.E.T reduces carbon emissions by 79%. By using this fabric, plastic will get a second life, while simultaneously reducing carbon emissions. 
Besides the recycled P.E.T. fabric, WOLVEN also uses a carbon-neutral fabric made from beechwood pulp. How come this fabric is carbon neutral you may ask? Well, beech trees are regenerative, and therefore do not need to be re-plant. These trees also do not need any harmful pesticides or a clear-cut farm to grow on, and they also need less water than cotton for example.
Since WOLVEN believes it is not enough to operate as sustainably as possible, they've also partnered up with Climate Neutral to address their carbon footprint. Thus, they measure their greenhouse gas emissions and make plans to reduce emissions in the future. WOLVEN also purchases carbon credits to offset the footprint. 
By doing this WOLVEN has created completely carbon-neutral swim- and -activewear.
WOLVEN has a certified production. Meaning that their partners abide by a strict code of conduct. Ensuring safe and healthy working spaces, fair wages, normal living hours, and no child labor.
So as you can see WOLVEN cares about both the environment and its people. It is an amazing company with beautiful items.
If you want to know more about WOLVEN's sustainability initiative or if you want to shop their items please

click here
.
Tentree
Tentree is a Canadian company established in 2012. For each item purchased Tentree plants, as their name says it, 10 trees. With this initiative, the company has planted over 50 million trees. Over 5000 hectares of land have been reforested, and millions of tonnes of CO2 have been removed from the air. The goal of Tentree is to have planted one billion trees by the year 2030.
Tentree sells activewear for both women and men (and even kids!), alongside loungewear, hoodies, jackets, and more. For their clothing, the company uses eco-friendly materials. These materials include TENCEL™, recycled polyester, organic cotton, and hemp.
TENCEL™ is made from responsibly sourced wood pulp and is made in a closed-loop process. This means that no parts are released into the environment, and chemicals used in the production are reused. The recycled polyester that is used in clothing is made from discarded single-use plastic. It removes plastics from the environment and gives them a second life. The organic cotton used in the clothing uses minimal amounts of pesticides and fertilizers, and also uses way less water than conventional cotton. Above this, the organic cotton used by Tentree also ensures safe and healthy working environments for farm workers. Last, hemp is just an amazing material. it requires no pesticides or fertilizers and uses little water. Next to this, it is also able to grow in almost every climate. it is a soft, and breathable material, and is an excellent material to use in sportswear.
Tentree is transparent throughout the whole supply chain and strives to meet the highest standards in regard to its workers.
If you want to read more about Tentree, or if you want to shop please

click here
.
Arms of Andes
Founded by Meli and Rensso, Arms of Andes is an outdoor apparel company that helps people get in contact with nature. Born from Peruvian parents, the brother and sister have stayed close to their ancestral roots. Their idea for creating Arms of Andes was to close the gap between their ancestor's heritage, and the modern world by creating unique, sustainable outerwear.
The whole company is based around one material: Alpaca wool. Around 80 percent of the world's alpaca wool comes from small indigenous farmers from Peru. Alpaca wool has great potential for activewear due to the fact that its wool easily adapts to temperature changes, it is odor-resistant, wind-resisting, and water-resistant. 
According to the CFDA (Council of Fashion Designers of America), alpaca wool is one of the most sustainable fibers from animals. The wool used by Arms of Andes is biodegradable, renewable, and sustainably produced. An excellent material!
Next to using alpaca wool, Arms of Andes also has a sustainable manufacturing process. The alpaca wool comes from small family-run farms. The farmers look after the animals, however, the alpacas are free-roaming and can graze up to 5 kilometers away from the farm. Way different than the usual livestock!
The other elements of the production such as creating the yarn, dying the yarn, and processing the yarn into fabrics are all done in Peru in order to lessen the carbon footprint of the company.
Besides, by keeping the whole supply chain in Peru many jobs are created for the locals, and the economy is boosted. As you can see Arms of Andes cares about both the environment and the people.
Arms of Andes sells soft, breathable activewear for both men and women. Definitely worth a visit.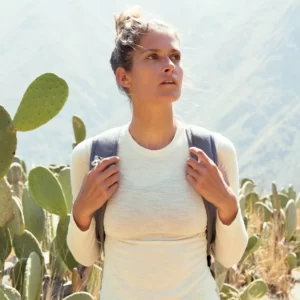 If you want to read more about Arms of Andes, or if you want to shop please

click here
.
Threads 4 Thought
Threads 4 Thought was founded in 2006 with the idea that every time you buy a from a certain brand you make an important choice. These choices show the success of a brand's ethical and moral standards. With this idea in mind, Thread 4 Thought created a brand that has a lower impact on the environment, supports vulnerable communities, and helps change the ethical standards in the fashion industry.
Threads 4 Thought, or T4T as they call it uses a few of the most sustainable materials possible. Among these materials are organic cotton, recycled polyester, and Lenzing Modal. Organic cotton and Recycled polyester are two materials that have been mentioned before, and thus we know that those materials are quite sustainable.
We also know the material Lenzing Modal well! Or not quite a material, but more a company. Lenzing Modal makes biodegradable fiber from beechwood pulp, also known as TENCEL™.
So as you can see T4T uses three well-known sustainable materials in their clothing, but what about the other aspects.
On their site, T4T mentions that they use less than half of the amounts of water other garment factories normally use. Next to this, around 80 percent of the wastewater used is recycled or reused. The company also mentions that they hold their factories to the highest possible certification when it comes to safety and healthy working conditions.
last, the company has partnered up with the International Rescue Committee, and together they have given many refugees opportunities for a better life.

Source: Threads 4 thought
If you want to read more about
Threads 4 Thought
, or if you want to shop please
click here
.
All pictures are taken from the internet and contain a link to the sites where I found them. All credits to the rightful owners.