Gucci, Fendi, Prada…. All of these fashion brands are known by most and loved by most. The brands are known for their expensive luxury items, and many people long to own such an item one day. The feeling of exclusiveness that people get from these brands is what makes them so popular. 
Nevertheless, with the rising urgency of climate change, the sustainability efforts of brands are becoming more and more important.
Thus in this article, we will be looking at three of the biggest luxury fashion brands, and the progress they are making in regard to sustainability.
The brands that we will discuss will be Gucci, Louis Vuitton, and Prada.
What is important to note is that these brands are owned by different multinationals, and thus their sustainability goals and the way they will carry them out will differ. 
Gucci is owned by the French company Kering. For some time now Kering is focussing on sustainability. Kering has developed its own innovative tool to measure the impact of their environmental impacts. The tool is called Environmental Profit & Loss further referred to as EP&L. This tool is available in the form of an app, and it measures carbon emission, water use, and air and land pollution amongst other environmental aspects. Many of the sustainability goals of Gucci are put forward by Kering.
Louis Vuitton is owned by a different multinational called LVMH. LVMH stands for Louis Vuitton Moët Hennessy. Next to these popular brands LVMH also owns Estee Lauder, Dom Perignon, and l'Oreal. LVMH also owns a well-known sustainable luxury brand, Stella McCartney. Just like Kering, LVMH also has its own sustainability goals that are prominent in its brands.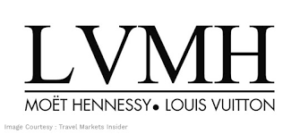 Unlike most brands, Prada is still family-owned, with Miuccia Prada owning 65 percent of the company. The other 35 percent is owned by Patrizio Bertelli. 
Gucci
Gucci is a high fashion brand founded in 1921 by Italian designer Guccio Gucci. The brand started off as a leather goods and luggage store, but later on also started selling other items such as clothes, shoes, and accessories.
Let's look at Gucci's environmental goals first. Gucci's goal for 2025 is to have reduced its total environmental impact by 40%. As for carbon emissions, their goal is to have this reduced by 50%. According to Kering's tool EP&L Gucci already has reduced its total footprint by 39%, and its carbon emission by 37%. Another goal of the brand is to use 100 percent renewable energy across the whole production line by the year 2022.
In its products, Gucci mainly uses materials such as leather, canvas, and suede. Which are very controversial materials in the fashion industry. Many believe that leather shouldn't be used due to animal cruelty, and the negative influence of animal agriculture on the environment. However, it is important to note that leather is a byproduct of the meat industry. Therefore, it does not use any additional resources or land in order to be made. Suede is a natural fiber also made of animal products. It has the same environmental impact as leather, and just like leather, it is biodegradable. Canvas can be made from different kinds of materials such as cotton, and hemp and is relatively eco-friendly depending on which material is used.
Next to leather and suede, Gucci also uses other animal products such as wool. For this reason, Gucci scores relatively low on the GOOD ON YOU rating for animals. 
Gucci did come out with a sustainable collection called Gucci off the grid. For this collection recycled, bio-based, organic, and sustainably sourced materials were used.
Source: Gucci
As for the people aspect of Gucci. The company supports diversity and gender equality. The supply chain of Gucci is partly covered by the Social Accountability International certification. Nevertheless, there is no evidence that the company ensures a living wage for all its employees throughout the supply chain.
As of 2020 Gucci has the highest score for luxury brands on the transparency index of the fashion revolution where they score 48%. This is a relatively good score compared to other high-end brands. Nevertheless, Gucci wants to reach 100% transparency and traceability by the year 2025. In order to reach this goal, the brand follows Kerings standard for raw materials and manufacturing processes. 
Gucci's overall rating on GOOD ON YOU is "it's a start" which is relatively high compared to the other brands discussed. This rating shows that the company is making effort to reduce its environmental impact, but that there are still several points in which the company can improve.
If you want to shop for Gucci or if you want more information about its sustainability progress please visit the Gucci website.
Louis Vuitton
Let's move on to another popular luxury brand. Just like Gucci, Louis Vuitton has the goal to use 100 percent renewable energy. The brand plans to reach this goal by 2025. As of 2021, 33% of energy use is renewable. Next to this, Louis Vuitton also wants to make the transportation process come completely from non-diesel resources, such as electricity or natural gases.
Moreover, Louis Vuitton has incorporated green architecture into its brand. To ensure the sustainability of the architecture the brand has multiple certifications to show for. These certifications include HQETM(High-Quality Environmental), LEED® (Leadership in Energy and Environmental Design), and BREEAM® (Building Research Establishment Environmental Assessment Method).
Louis Vuitton uses little eco-friendly materials. In its products, Louis Vuitton mainly uses coated canvas, leather, and exotic animal skins. Leather is already discussed in the section of Gucci. However, exotic animal skins are not yet discussed. The use of exotic animal skins has caused a lot of uproar in animal rights organizations since they argue that it is very unethical. Nonetheless, Louis Vuitton has made a statement that they minimize the suffering of the animals as much as possible. Still, these animals are specifically bred for their skin and have no other purpose. Therefore this material adds to the pollution. The coated canvas is the same as normal canvas except that there is an extra layer over the canvas in order to make it similar to leather. Depending on which materials are used it can be sustainable. However, the extra layer makes it more difficult to recycle.
As the materials used by Louis Vuitton are not renewable the brand is committed to sourcing their raw materials 100 percent responsibly in 2025. For this, the company says to be completely transparent. As of right now, Louis Vuitton scores 21-30% on the transparency index of the fashion revolution.
Moving on to the social dimension of Louis Vuitton. Louis Vuitton has undergone a partnership with UNICEF in order to support vulnerable children around the world. Besides, education is very important for the company as they work closely together with educational institutions. 
Just like Gucci, there is no confirmation of a living wage being paid to all their employees.
If you want to shop for Louis Vuitton or if you want more information about its sustainability progress please visit the Louis Vuitton website.
Prada
Prada has taken on several different initiatives in order to increase the sustainability of the brand. Just like Gucci and Louis Vuitton, Prada plans to turn to 100% renewable energy use by 2030. Moreover, Prada is planning on having a net-zero carbon emission by 2050. Next to this, the brand is planning to switch their old antique lighting systems to LED lights in 115 shops all over the world, since those are more sustainable. Besides, Prada also is planning to open stores with the LEED® (Leadership in Energy and Environmental Design) certification in order to support sustainable architecture.
However, the biggest sustainability goal that Prada has set for itself is by taking on a loan with the Crédit Agricole Group. This is a 5-year sustainability term loan for 50 million euros. By taking this loan Prada has agreed to meet 3 sustainability demands so that the interest rate on the loan will decrease. 
Currently, the nylon bags Prada are hot and happening which they absolutely deserve because the bags are adorable. As you can guess these bags are primarily made from nylon. Nylon is a very durable synthetic fiber, used on a large skill in the fashion industry. Prada has made it, its mission to only use recycled nylon by the end of 2021. Next to this Prada is also using ECONYL®, which are fibers made from recycled plastics that were polluting the ocean. By using ECONYL®  CO2 emissions are reduced, as is the use of petroleum, and the impact on climate change is lessened by 90 percent.
The Prada Group established the "Diversity and Inclusion Advisory Council" in order to diversify, and expand the fashion industry and also give a voice to minorities.
Again just like the other two brands, there is no account of Prada ensuring a living wage for their employees.
If you want to shop for Prada or if you want more information about its sustainability progress please visit the Prada website.
Conclusion
So as you can see the three brands are working hard on incorporating sustainability in their brand, and have set many goals that they are planning to read. Not all information is available for all brands meaning that there is no explicit data that I can give on those subjects. I am very happy to see that these large brands are becoming more and more sustainable seeing as they have such a big influence on the fashion industry.
All pictures are taken from the internet and contain a link to the sites where I found them. All credits to the rightful owners.