The weather is finally getting hotter, and summer is coming close. This means it is time to shop for some new swimming suits. Even better shop for sustainable swimming suits. In this article, I have listed 4 brands with adorable swimming suits, made from sustainable materials. 
Little reminder, every BODY is beautiful no matter the size! Don't worry about how you look and enjoy the sun.
SALTWATER collective
SALTWATER collective is a Canadian-based swimwear brand owned by Camilla James. The brand noticed the importance of combating plastic pollution in the ocean which is why they use nylon waste from landfills and abandoned fishnets as materials for the pieces of swimwear. For the swimsuits, the brand uses the regeneration system ECONYL®.
The process works as follows. It starts off by collecting plastic waste from landfills and oceans all over the world. Then the waste is sorted and cleaned in order to recover the nylon. This Nylon is recycled back to its original form and is then used in new products. The nylon is then can be recycled indefinitely, without losing quality.
Next to their environmental initiatives, SALTWATER collective is all about body positivity and feeling confident. As they mention on their site, the pieces are made to embrace your beauty. The brand shows this by using beautiful models who all have different bodies.
The brand has a large collection with different forms and bright colors you can choose from.
If you want to shop SALTWATER collective please click here.
Vitamin A Swim
Vitamin A Swim sells bikinis, swimwear, and beachwear that are designed and produced in California. For the materials, the brand uses organic cotton, linen, recycled cotton, and Tencel®. The brand makes sure that all materials used are Oeko-Tex certified, and meet the global standards. Next to this, designer Amalhia Stevens has developed her own fabric EcoLux™. This fabric is made from recycled nylon and is specifically made for swimwear. The fabric is used throughout their collections.
Moreover, vitamin A is actively trying to reduce its carbon footprint. With the use of eco-friendly fabrics, the brand also limits the number of chemicals and water used.
The factories of Vitamin A are located in California, where the brand is held to the highest standards in regards to the environment. For materials or products that cannot be made in California the brand partners with fair trade organizations in order to ensure that the products are made ethically.
On the website, you can see the statistics of each product of Vitamin A, and how the products compare in sustainability. The brand has beautiful pieces of swimwear, available in many bright colors and different forms. Just like SALTWATER collective, Vitamin A also uses gorgeous models with different body types.
If you want to shop for Vitamin A Swim, please click here.
EVARAE
EVARAE is a diverse brand that sells both swimwear and ready-to-wear items. Sustainability is at the core of the brand seeing as it is most important for founder Georgia Thompson. This can be seen within the brand. EVARAE has made a bold move by removing free returns. With this move, the brand hopes to decrease impulsive buying and decrease the carbon footprint of the brand. Furthermore, the brand offers a recycling option where you can return your swimwear (from any brand) so EVARAE can regenerate it. Besides, the packaging of the brand is recyclable and biodegradable.
The items of EVARAE are made to last for a long time seeing as the brand's philosophy is to buy less, buy better. Therefore, the clothing is of good quality with a classic yet modern design.
Moving on we will take a look at the materials EVARAE uses in their clothing, specifically in their swimwear.
95 percent of the swimwear is made from the fabric ECONYL®, which has been mentioned before. ECONYL® is made from recycled plastic waste and helps reduce the plastic pollution in the ocean. On their website, EVARAE has mentioned that 100 percent of their swimsuits will be completely sustainable by April. Other materials used by the brand are sustainable silk, Lyocell, linen, and Tencel.
Another environmentally friendly initiative that EVARAE takes is using less digital printing in order to decrease their water use.
Moreover, EVARAE ensures one tree planted for every online order and sustainable packaging. 
If you want to shop EVARAE please visit their site.
Galamaar
Founded in 2017 by designer Blakely Wickstrom, Galamaar sells sustainable swimsuits made in California. Just like the other three brands Galamaar also uses regenerated nylon, also known as ECONYL®. Besides, the brand limits the number of chemicals, and wastewater used during manufacturing.
The swimsuits are made in a local family-owned and operated facility. By producing locally Galamaar diminishes its carbon footprint. 
Galamaar makes swimsuits that are meant to last for a long time, up to 50 percent longer than normal suits. On their website, the brand has instructions on how to treat your Galamaar swimsuit, and they give tips on how to make your swimsuits even longer.
Galamaar has many different kinds of swimsuits. In different forms, with different patterns, and they have a large variety of colors.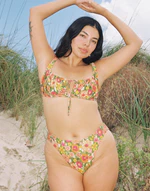 If you want to shop Galamaar please click here.
Environmental-friendly sunscreen
So now you've bought all these new and adorable swimming suits, but what kind of sunscreen do you use? As you might know, a lot of sunscreens are quite harmful to our oceans. The chemicals in sunscreen can damage the coral reefs, and decrease fertility in fish. It also can accumulate in dolphins, and be transferred to their youngsters which can cause detrimental effects on their health. Still wearing sunscreen is so important to avoid harmful effects of the sun.
Luckily we have come so far with the current technologies, and thus there are many environmentally safe sunscreens out there. Below I will list some of these environmentally friendly sunscreens, so you can enjoy your summer without getting burned.
NAIF


Weleda


True Natural Face & Body Sun


Kiss My Face