Today's post will discuss sustainable jeans brands.
Coincidentally I have spent the past 10 weeks doing research on the subject because it was the topic for my bachelor's thesis.
The impact of jeans
As you might know, jeans have a huge environmental impact. Every year approximately 2 billion pairs of jeans are created every year. For one pair of jeans roughly 2500 liters of water is used, so as you can assume the water usage for these 2 BILLION pairs of jeans is incredibly large. This is highly disturbing seeing as we live in a world where over 10 percent of the population has little access to safe drinking water. 
Next to this, these jeans also need excessive amounts of chemicals for the different processes of jeans manufacturing. It is estimated that one pair of jeans uses around 1 kilogram of chemicals. These chemicals end up polluting the waterways and pose a risk to human health as well as environmental health.
Moreover, for the manufacturing of jeans, several processes have to be done to get the final appearance that we, as consumers, love. The jeans have to go through several washing and finishing cycles with chemicals to make them softer and easier to wear. These processes are often done by hand by garment workers without any safety precautions such as masks in order to make the jeans as cheap as possible. So, besides the harm caused to the environment, the workers' health, safety, and rights are also exploited.
Tips for consumers
While the jeans industry has social and environmental consequences there are some things that we as consumers can do. To reduce the footprint of jeans we can buy second handed jeans. Many companies are actively promoting this on their website. For example the well-known jeans company Levi's. They sell vintage and second-hand denim on their website.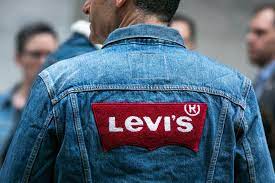 Buying jeans made with certified organic cotton can also decrease the environmental footprint of the jeans. Organic cotton is made without pesticides, and also uses less water which in turn reduces the amounts of chemicals and water used for the jeans.
Of course, it is important to note that high-quality denim is actually a very durable material. Therefore, a good pair of jeans does not have to be replaced for years evidently making it a quite sustainable product.
4 sustainable jeans brands
There are many brands that are committed to creating sustainable products and reducing their footprint as much as possible. Here I will recommend several sustainable jeans brands.
Mud jeans
The first brand I will discuss is Mud jeans which are actually one of my favorite brands due to their interesting business model. This brand is located in the Netherlands and is focused on creating circular denim.
Mud jeans sell jeans in which all components can be recycled, therefore, once the consumer is done with the jeans they can return them to Mud jeans. Mud jeans then will assess the jeans to see whether the jeans can be repaired or if they have to be shredded and recycled into different fabrics. Because of this process, the denim of Mud jeans has a circular design. Through this model, Mud jeans have been able to save huge amounts of water, chemicals, and CO2.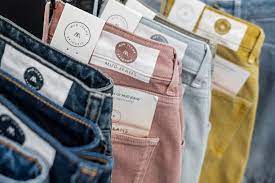 Next to selling the jeans, Mud jeans also provide a rental service where you can rent jeans for up to a year.
The brand has several types of fits for both women and men, and they also sell jeans in different colors such as yellow and pink.
Buy jeans: €119-149
Rent jeans: €9.95-12.45
If you are curious about Mud jeans, please visit their website
Kuyichi
Kuyichi was established in 2001 and was one of the first sustainable brands to ever exist. The brand is focused on designing sustainable and ethical pieces of clothing including jeans. The brand uses 100 percent organic cotton for which no chemicals are used. Moreover, all the cotton used is GOTS (Global Organic Textile Standard) certified. However, due to the use of recycled cotton in the end product, not all final products are GOTS certified.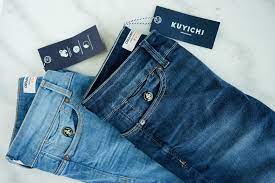 This is why the brand uses a combination of different certifications. Furthermore, the brand has noted 9 hazardous chemicals that are restricted within the products of the brand. Next to this, Kuyichi is working with post-consumer waste in order to reduce the amount of clothing that ends up in landfills. Next to jeans, Kuyichi also sells other organic clothing items.


Jeans: €100-130
If you want to read more about Kuyichi please visit their website
Armedangels
Armedangels is a German brand that is focused on creating affordable eco-friendly pieces. Just like Kuyichi, Armedangels uses only GOTS-certified cotton to ensure that it has no chemicals and little water. The brand is also trying to be 100 percent carbon-neutral, and source only raw materials which have sustainable water consumption.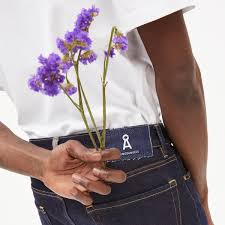 Next to the environment, Armedangel is also ensuring ethical working conditions by adopting the Fair Trade Coding Conduct. During the pandemic, the brand also has donated to several charities including the Bangladeshi National Garment Workers Federation.
The brand sells jeans, dresses, and many other items that are super trendy and adorable.
Jeans: €79.90-119.90
To visit the website of Kuyichi please click here
Outland Denim
It is evident that organic cotton is essential for a sustainable jeans brand, and thus, Outland denim also uses the material for similar reasons as the other brands; the reduced use of water, and no chemicals. The brand also has its own facility where they have innovative technologies that reduce the water and energy used for the washing and finishing processes. Outland denim also sources the most sustainable and ethically made raw materials from suppliers that have the same vision as the other brands.
Next to this, the brand also offers employment opportunities for women rescued from sex trafficking in Cambodia. 
Outland denim offers many premium products for both men and women. 
Jeans: €209
If you are interested in Outland Denim please visit their website.