While I've already mentioned many, many sustainable fashion brands, most are quite unknown compared to Zara, H&M, Fashion Nova, and other common brands. 
These brands are popular because of their cute designs and affordable prices. However, these brands are not known as sustainable and have received quite some backlash over the years because of their practices.
Nevertheless, sustainability concerns are rising steadily, and companies all over the world are putting in the effort to reduce their impact.
Therefore, in this post, I will discuss popular fashion brands mentioned above, and we will look at their attempts to become more sustainable.
Zara, H&M, & Fashion Nova
Zara
Starting off with the current leader in the fast fashion industry: Zara. The brand is very popular because of its ability to introduce new items that fit the trend cycles every week.
Recently Zara has made an effort to improve its sustainability image, and the brand has introduced sustainability and ethical commitments.
The brand has received a score of 51 to 60 percent on the transparency index of Fashion Revolution. This indicates that the brand is rather transparent to a certain extent. Zara publishes a list of all suppliers, as well as information about these suppliers. Moreover, the brand publishes information about forced labor, gender equality, health and safety, living wages, and freedom of associates. However, the brand lacks details in their rapports which is why their score is not as high.
Zara is working on the working conditions for their employees. Nevertheless, the brand has made little progress on the payment of the living wages, even though the brand is huge and has extreme profits. The brand does uphold a strong code of conduct, and when factories are unable to live up to the standard they will be eliminated from Zara's supply chain. Besides, there is some evidence to suggest that the company is working on education and well-being initiatives. However, from their site, it becomes evident that only half of the factories are receiving these benefits.
Zara has set targets for reducing the GreenHouse Gas emissions and removing toxic chemicals from the supply chain. The company is also committed to reducing the waste in landfills. However, this is where the lack of transparency is evident. The brand fails to disclose many important details about its sustainability commitment; there is no evidence that the brand is on track to reach its goals.
Last, Zara has banned exotic animal products and animal testing from its production. Nevertheless, the brand still uses fur, wool, and animal hair.
So while Zara is definitely putting in some effort to move towards sustainability, it is definitely not enough. Looking at the size of the company, the brand could be a leader in the move towards a sustainable future. However, the business model of the company is still primarily focused on profit instead of the environment.
H&M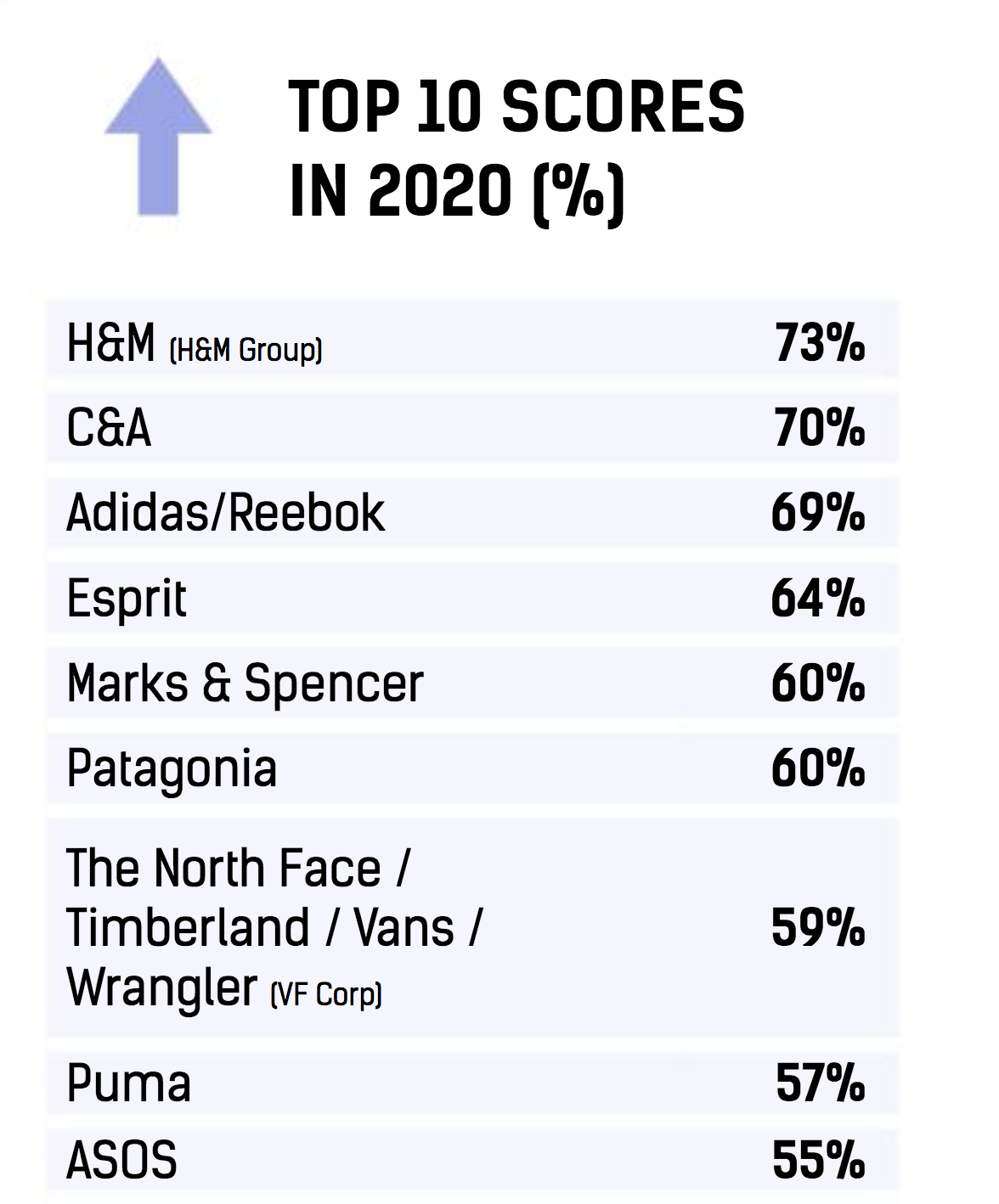 The second brand we will be discussing is H&M. H&M is a bit further than Zara. In 2020 the brand was the highest scoring out of all the 250 fashion brands in the transparency index. This indicates that they publish very detailed reports about their practices. Just like Zara, H&M publishes information about gender equality, forced labor, and freedom of associations.
H&M also has projects to improve the wages of employees in the supply chain. However, there is little mention of enforcing a living wage across the supply chain. 
As H&M mentions on their site they have been working on improving the health and safety conditions for the production stage, of which they also have evidence noted. The brand also disclosed policies to protect workers and suppliers during the COVID-19 pandemic, but it is uncertain whether or not these policies were actually implemented.
The company has set scientific-based targets to reduce the greenhouse gases emitted in the supply chain of the brand. H&M also has policies in place to avoid deforestation of endangered forests in its supply chain. 
The brand has conscientious clothing tags for clothes that are made sustainably and consciously. These items have sustainable materials in them. H&M is also working with recycled materials which add to the sustainability of the brand. However, the brand still has a similar business model as Zara and has fast fashion traits such as fast fashion cycles. Moreover, the brand has not completely removed animal products from its selection. H&M still uses leather and exotic animal hairs in their design.
It seems like H&M is on their way to become a sustainable fashion brand right? Sadly, however, H&M is being sued for greenwashing. There are several claims that the information that H&M puts on its labels contain misleading information and that the brand is claiming to be more sustainable than they actually are.
Fashion Nova
Women's clothing brand Fashion Nova is primarily known for using famous influencers such as Kylie Jenner and Cardi B to promote their designs. Just like the other two brands, Fashion Nova is known to introduce new designs every two weeks.
Fashion Nova scores terribly on the transparency index with a rating between 0 and 10 percent. This indicates that the brand publishes limited details about its practices or suppliers. There is little known about the supply chain of Fashion Nova, and the brand does not disclose any information about the working conditions of their employees, gender equality, and health and safety. Moreover, there is no evidence to suggest that employees in the supply chain of Fashion Nova earn a living wage. Even worse, in 2019 Fashion Nova was accused of severely underpaying their workers in the United States.
Due to Fashion Nova's lack of transparency, it is unclear what policies the brand has in place in regard to environmental concerns. There is also little information known about the brands' use of animal products.
Overall
These brands still have a long way to go in order to become more sustainable. For now, I would advise any conscious buyer to avoid brands like these, and look for more sustainable brands. Click here for some inspiration on affordable sustainable brands.