When it comes to sustainable fashion and building a green closet there are many things that we should focus on. One tip that always seems to be on the list is to shop locally! And how could it not be? Shopping locally has many benefits including supporting the business in your region, but also lowering your carbon footprint.
Seeing as my biggest audience is located in the Netherlands, I'm writing this post keeping my fellow dutchies in mind. 
Let's take a look at some of the sustainable fashion brands from the Netherlands.
Mud Jeans
The first brand on the list is one that I have already mentioned in a previous post about sustainable jeans brands. Mud jeans is, as you might have guessed, a sustainable jeans brand that has a completely circular model. 
All of the components used in the jeans are certified organic and recycled materials. The jeans are made out of recycled cotton, and organic cotton. For the buttons and the zipper, 100 % stainless steel is used. The brand has a complete circular design for the jeans, and by using these materials all components can be 100 percent recyclable. 
What makes Mud jeans such an exceptional brand is that they provide the option to lease jeans! Mud jeans gives customers the possibility to purchase a membership for a year. With this membership, you can lease whatever jeans you like for €9,95 a month for a whole year. Once the year is over you can either keep the jeans or lease a new pair. Next to this, the brand also has the option to purchase jeans directly without a membership. Once you are done with the jeans they can be sent back and the brand will recycle them for you (they also take jeans from other brands). 
Mud jeans has an amazing assortment of jeans for all shapes and sizes.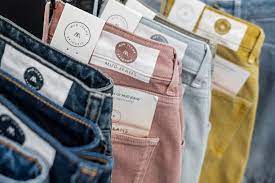 Interested? Click here
Prices:
Lease jeans €9.95
Buy jeans €119.95
Kuyichi
Created in 2001, this brand was the first sustainable denim brand. The brand is focused on designing sustainably and ethically made clothing items.
Kuyichi uses many different organic and sustainable materials. The materials include organic cotton, recycled cotton, recycled polyester, post-consumer recycled denim, and Tencel. The brand also uses a material that I have not discussed before called: T400 Ecomade.
T400 Ecomade is composed of one part PET polyester, one part plant-based polymers, and one part virgin polyester. Kuyuchi uses this material in the jeans because it is able to recover fully since it turns back to its old shape after cooling down. To show consumers that the brand is true to its word, it uses certifications to show its credibility. 
Not only does the brand focus on sustainable materials, but it also designed the manufacturing process so that it has a low impact on the environment which adds to the sustainability and durability of the brand.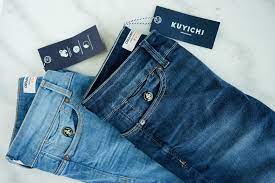 Kuyichi has a huge variety of clothing items for both men and women. 
Interested? Click here
Prices:
Jeans €100-€140
T-shirts €35-€50
Sweaters €75-€80
Skirts & Shorts €65-€75
Dress €110-€130
Jackets €140-€300
Noumenon
Noumenon is a clothing brand founded by Dena Simaite. The brand is inspired by the Noumenal world of the philosopher Kant to create fashion that is cruelty-free and ethically made. The clothing is designed to be sophisticated, but also timeless.
The materials used for the garments include linen, organic cotton, Tencel, and cupro. Cupro is most commonly known as artificial silk. It is made from regenerated cellulose fibers from recycled cotton. The material feels like silk but has the same characteristics as cotton.
Every material and garment is made in Europe, to reduce CO2 emission as much as possible.
The collection of Noumenon consists of many classy items to make women feel beautiful and comfortable.
Interested? Click here
Prices
T-shirt €49,95
Tops €62-€165
Dress €165
Jacket €125-€288
Skirt €139
Trousers €129
Unrecorded
Jolle and Daniel wanted to design clothes that did not come with unnecessary branding, hidden plastic, or excessive prices which is why they founded Unrecorded.
The brand has a permanent collection, suitable for every season and wardrobe.
For the designs, Unrecorded uses 100 % GOTS-certified organic cotton. Moreover, the brand preaches sustainability throughout all the manufacturing processes, from the raw materials to the end-products. Transparency is key for Unrecorded, seeing as fashion is an industry where modern slavery happens and overpricing clothing is normal. Therefore, the brand has a complete breakdown of the garments on their site and an explanation of the places where their apparel is manufactured.
Interestingly the brand keeps their prices the same throughout the whole year. This is something that is quite uncommon in the fashion industry. Besides, the brand also avoids mark-ups by selling directly to the customer.
Unrecorded is a fascinating brand with amazing pieces.
Interested? Click here.
Prices:
T-shirt €30-€50
Long sleeves €55
Sweaters €85-€105
Hoodie €95-€105
Wool cardigan €125
Sweatpants €70-€90
A-dam
A-dam is the last Dutch brand on the list for today. As you might have guessed this brand is located in the capital Amsterdam. 
The brand distinguished itself from other fashion brands by explicitly calling themselves not sustainable. A-dam argues that there is no such thing as sustainable fashion. Instead, the brand focuses on responsibility, sustainability is something that the brand strives for on a daily basis. A-dam uses recycled and organic fabrics for all of their products, They check on their whole supply chain including all people involved, and last, they collaborate with certified partners such as GOTS, Aquafil, and waste2wear.
A-dam is a fun and colorful brand with a huge variety of clothing items.
Interested? Click here
Prices
Boxer Shorts €24.95
Socks €9.95
Hoodies €69.95-94.95
Sweatpants €69.95
T-shirts €39.95
 All pictures are taken from the internet and contain a link to the sites where I found them. All credits to the rightful owners.